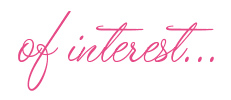 Here are small spaces from our portfolio and website.  I hope you enjoy these fabulous little gems!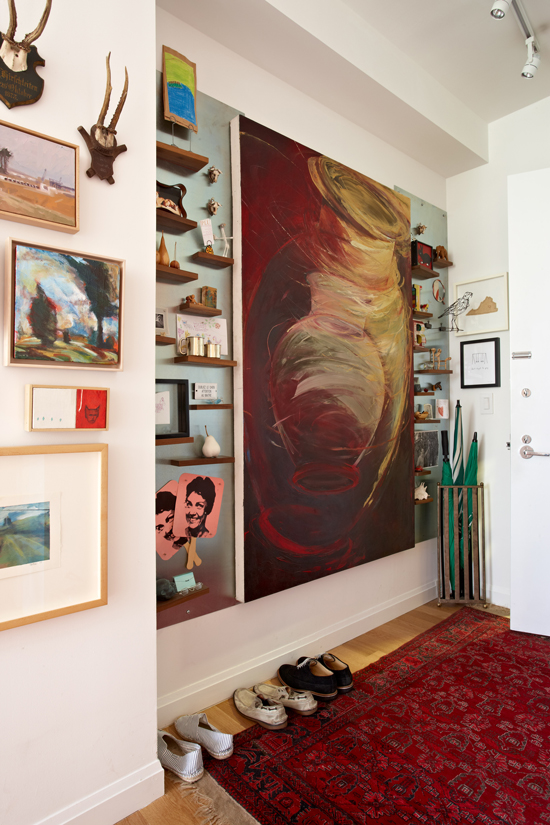 Here is an entrance hall in an apartment on the upper west side of New York City. It is welcoming, interesting
and really personal. You immediately feel at home – among cherished things. It is a tiny hall with a big personality.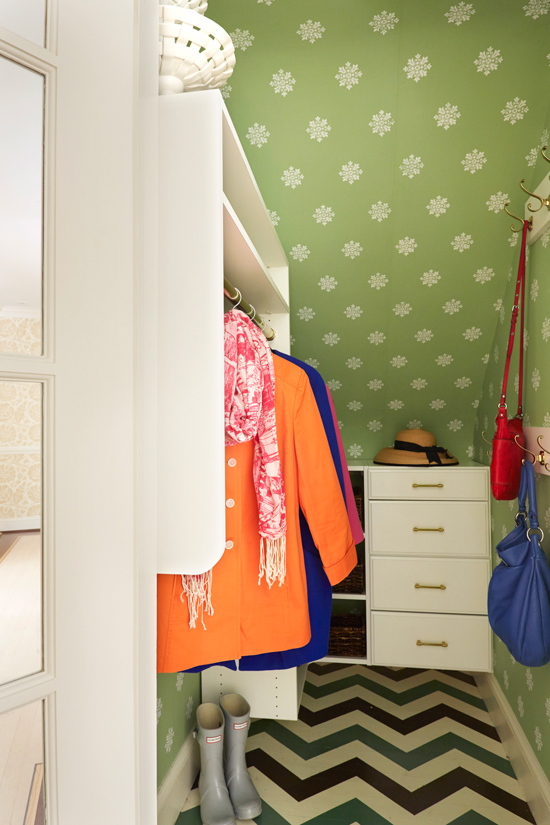 Here is my entrance hall closet. I gutted it, painted the floor, wallpapered the walls and ceiling and had some
cabinetry made to store just what I needed to keep in there. I couldn't believe how much space I had – and
I had lived with the old closet for 15 years!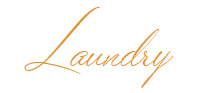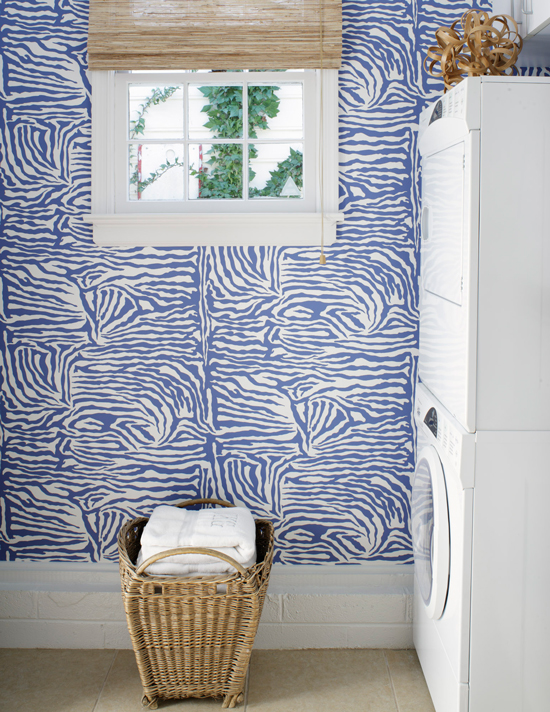 This room took four rolls of wallpaper, and it looks fabulous. It serves as the back entry into the house – not exactly a
mudroom – but not exclusively a laundry room either! Good incentive to keep those clothes folded and put away – as if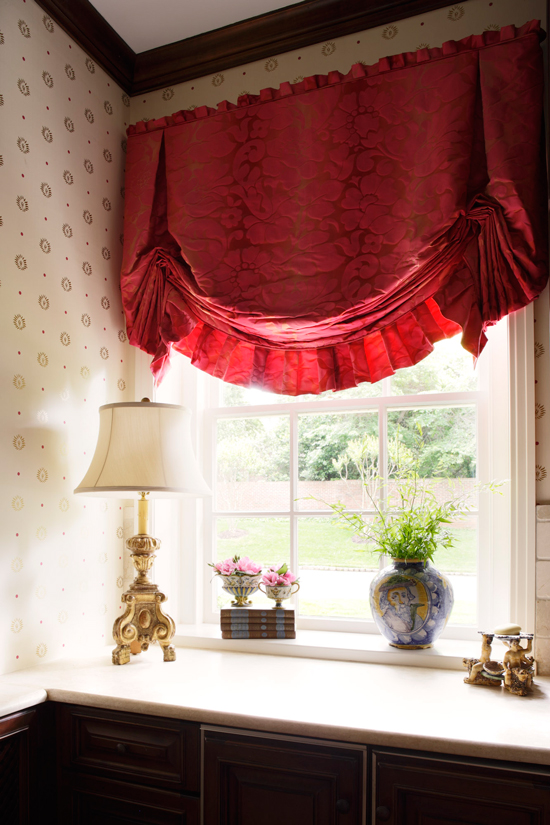 This is a Butler's Pantry. These spaces are found in many older homes and are wonderful to have. They can be
used as a wet or dry bar – for china storage – or as a quiet place to catch up on your laptop. Dressing them up with
wallpaper – custom made in this pantry – and a pretty window shade makes them appear as special as they are.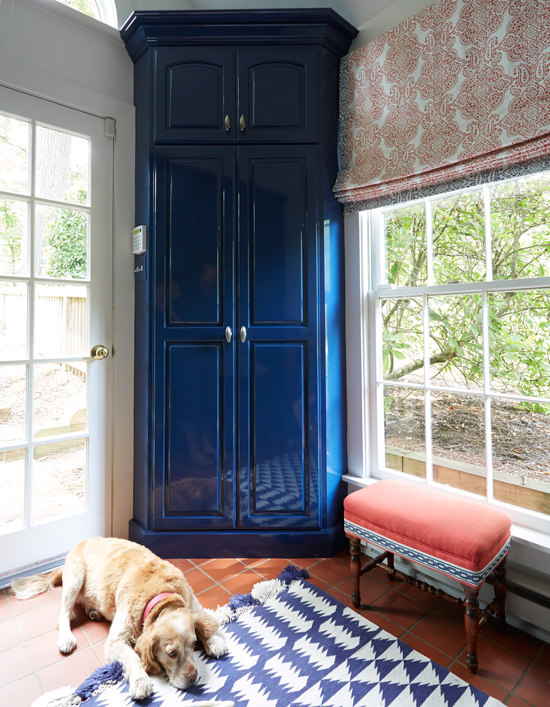 Here is a genuine mudroom. It is off the side street and almost everyone enters this home through this door. We
painted the cabinet a high gloss blue and put up a pretty shade and the room came alive. There are boots and coats
and a dog bed within a cabinet on the other side…This room is really practical yet pretty at the same time.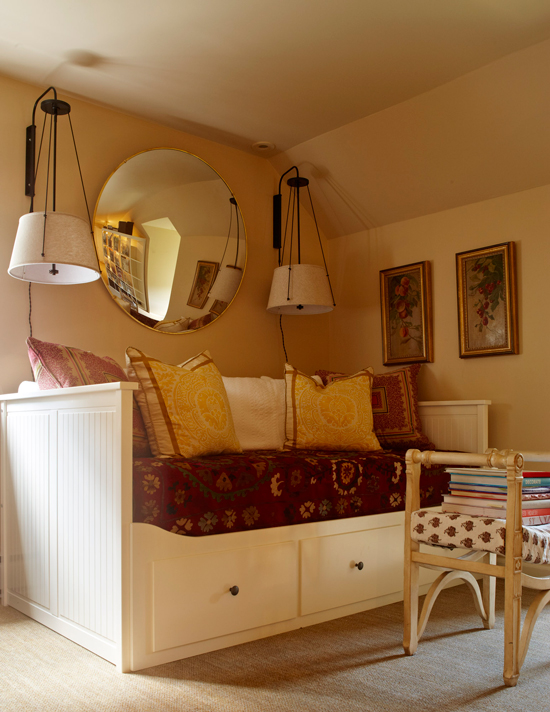 Here is a tiny corner of the room in our office that functions as a library. I needed more office space but I also needed
to have a space for guests to stay. This day bed from Ikea is a great solution. It provides me with storage – a pretty vingette
in our work space and a bed for guests.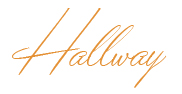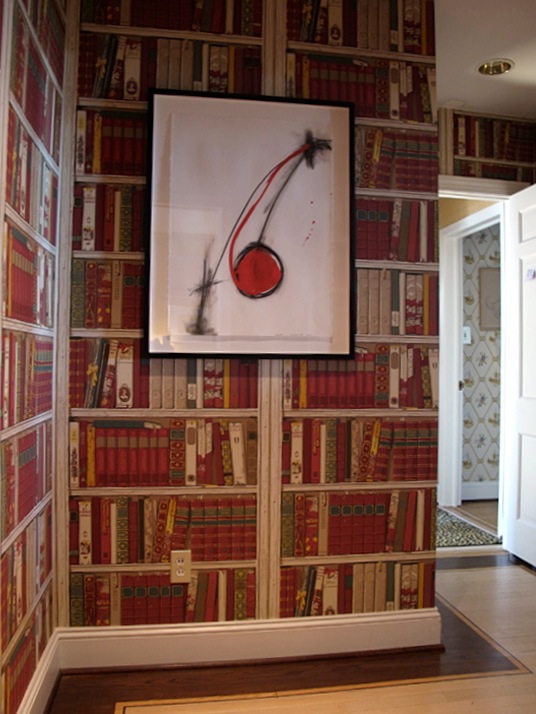 Here is a charming little back hallway.  There are 6 doors off this little vestibule!  The Brunschwig et Fils Bibliotheque
wallpaper was designed in the 70's by Richard Lowell Neas – a classically trained trompe l'oeil artist.  I think it makes this
space so special – and the work on paper – "Bundle" by Richmond artist Cindy Neuschwander looks fabulous hanging
here. The floor is stained to outline this quirky little space.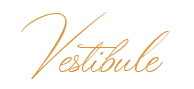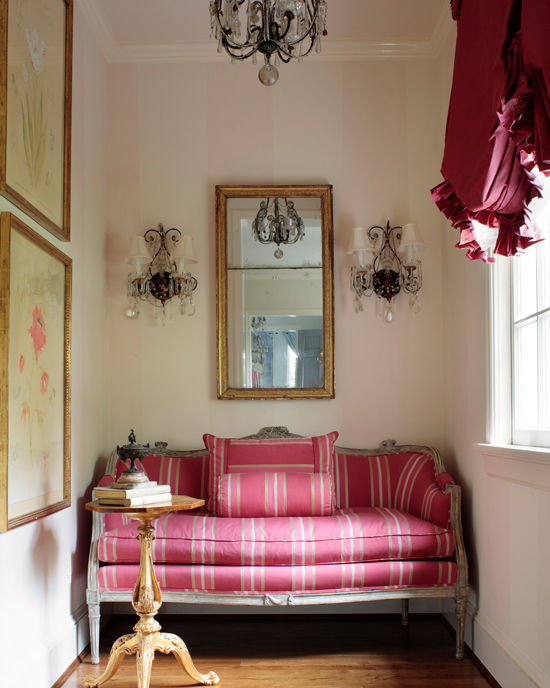 This is a little vestibule off of a living room.  It leads to a guest bedroom wing and creates a visual and physical pause
between public and private spaces.  The door to the living room is open most of the time – but guests can close
their area off for lots of privacy and also have a light filled sitting area as part of their space.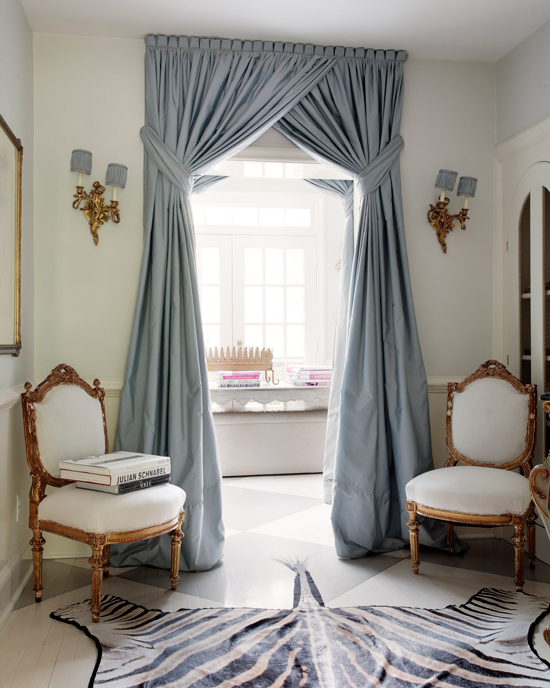 This is an interior hall space. It is between the entrance hall and the rear hall off of which are the french doors leading to
the yard behind the house.  Off this hall is a darling powder room with a mirrored door to make the most of the natural
light coming from the front and back.  This little area feels cozy and crisp at the same time.